| | | |
| --- | --- | --- |
| | | |
| The National Nature Reserve | | A city view |
General Information
---
Yancheng, referring to "Salt City" in Mandarin, is a city with a history of 2,100 years. Situated on the north bank of Yangtze River, the city was given the name referring to its sea salt production and salt harvest fields, tracking back to 119 B.C. Yancheng City is one of Jiangsu thirteen prefecture-level cities which administers two old municipal districts and seven county-level cities or counties. The city is the largest city in Jiangsu in the term of its land mass and the second largest city in population. Lying on the China's east coast, the splendid coastal city has a well protected coastline, wetland and uncontaminated water resource. Two national nature reserves with international prestige are located in the city. The nature reserves are the important wintering habitat for millions of migrating birds and shelters an enormous number of other species of insects, fish, and wild animals. With its rich culture and heritage, Yancheng is a pearl on the east coast and will be one of the best land for tourists and investors.
Geography, Resources and Climate
---
Lying along the China Yellow Sea, Yancheng has the longest coastal line in Jiangsu, near 600 km in length. The city is located in the middle-east of Jiangsu on the Jiangsu Northern Plain. It borders Lianyungang, Huai'an, Yangzhou and Taizhou, and is connected by expressway/highways and air traffic to other municipalities including the provincial capital Nanjing and Shanghai. The nature resources include crude oil and natural gas. It has 4,550 square kilometers of wetland and more than 18,900 square kilometers of coastal waters area. Its territory is still expanding toward the sea with a speed of more than 10 square kilometer per year due to the sediment of a huge amount of sand particles brought by the Yangtze River. The coastal waters bring the city an abundance of fish resources. The total days of the wind speed exceeding 4 m per second reach 63-156 days per year, which is potentially a new energy source for electricity to reduce carbon dioxide emission. Yancheng, together with the its jurisdiction, has a warm and wet subtropical climate under the influence of East Asia Monsoon. Seasons are distinct and its residents enjoy sufficient sunlight and abundant rainfall. The average temperature is approximately 15°C with the highest 38°C in summer and the lowest -10°C in winter. The annual precipitation of 1,000 to 1,600 mm.
Jurisdiction
---
Yancheng jurisdiction includes 9 county-level divisions, of which two are districts, five are counties, and two are cities. The districts are old urban areas of Yagcheng while the five counties and two cities are recently designated as county-level districts being considered as suburbs and governed by the Yancheng city administration. The special industrial zones are specifically designated as new investment areas.


Area and Population
---
Lying along the China Yellow Sea, Yancheng has the longest coastal line in Jiangsu, near 600 km in length. It is the largest city in this province in terms of land size, 16,920 square kilometer. The city's population is 8 million.
Economy, Industry and Environment
---
Yancheng's economy used to rely heavily on its agricultural industry and many of its agricultural products were well-known in China. Fishing is another traditional sector and provides thousands of job and income to the local residents. The recent addition of automobile industry, with investments by a joint venture from the multinational auto giant, Kia Motors, and the local company, Yueda Corporation, has significantly enhanced the city's financial capability. With its booming economy, environment contamination and air pollution could be the next focus. Yancheng has spent substantial funds over years in protecting its eco-system and stiff policies have been set up to monitor potential polluters. Numerous wetland reservation parks have been since then established along its marveious coastline. The Yancheng National Nature Reserve occupies 453,000 hectares and is the largest coastal wetland in China with extensive mudflats along over 120 km of coastline, and about 3 million individuals of 200 bird species annually migrating through the site.
Transportation and Tourism
---
Yancheng has efficient transport means, including highway/expressway, railway, air and waterway. At present, at least five expressway/highway lines link the city with other major cities in the province, including expressways of Nanjing-Qingjiang-Yancheng, Suzhou-Yancheng, Yancheng-Huai'an, Yancheng-Nantong and coastline. Xinchang Railway (Xunyi (under the jurisdiction of Xuzhou) is a trunk rail line for the city. The Port of Yancheng offers the waterway for cargo and passengers and receives containers from Japan and the South Korea. Yancheng Airport has charted flights to Beijing, Wenzhou, Guilin Guangzhou, etc. The opening of the Sutong (Suzhou-Nantong) Yangtze River Bridge offers the city an additional fast traffic to the Southern Jiangsu, an economic booming area in China. The Chongming-Qidong Yangtze River Bridge will soon open in 2009. Yancheng is a hot tourist destination and its coastal line, landmarks and conservation parkswould give you unforgettable memories. The Yancheng National Nature Reserve would give the best views for wild birds and aninals.
Education
---
The city hosts three higher learning institutions, Yancheng Teacher's College, Yancheng Textile Vocational College and Yancheng Transport Technology College. Yancheng Radio and Television University is a branch of this national educational giant in the city. The city has well instituted compulsory primary education system. The secondary schools including high schools achieves significant graduate rate. Its adult vocational education system has brought diverse programs to its labor forces.
Culture and Folklore
---
An army branch, The New Fourth Army, famed in the war against Japanese invasion, was re-established in Yancheng after being ambushed by the enemy and finally played an important role in the anti-Japanese war.
Notable Personage
---
There were many notible figures born or raised in Yancheng, including Qiao Guanhua, an outstanding diplomat and politician, Hu Qianomu, a member of CPC (Communist Party of China) Central Committee and Directors of two highly ranked research institutions affiliated to CPC.
---
Back to home page
Advertisement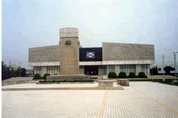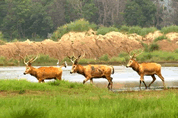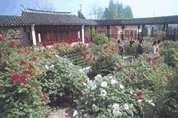 Advertise
Web Services
Live Poll
---